Next 'very cautious' on trading outlook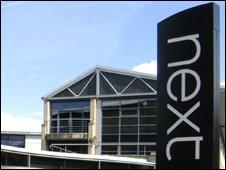 Retailer Next has warned that consumer spending is likely to slow after the election as the new government tackles the UK's budget deficit.
The company said in an interim management statement that it expected sales and profits to grow in 2010.
But the UK's second largest fashion outlet added: "We remain very cautious in our outlook for the year ahead".
The comments came as it reported a 2.2% rise in total like-for-like retail sales for the 13 weeks to 1 May.
However, Next, which runs over 500 shops in the UK and Ireland as well as a home shopping business, said sales at its stores fell 0.8% in the period.
The firm's Next Directory catalogue and online sales had a strong 13 weeks, rising 7.2%.
Next said it was on track to achieve a full-year profit towards the top end of market expectations, with growth in sales and dividends expected.
But it added a cautious note. "We anticipate that a new government will have to take action to tackle the budget deficit. Whatever form this action takes, it is likely that it will act to restrain growth in consumer spending," the company said.
Related Internet Links
The BBC is not responsible for the content of external sites.