Poison's Bret Michaels 'to make full recovery'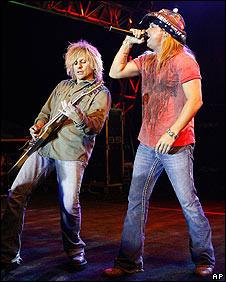 Poison singer Bret Michaels has been discharged from hospital and is expected to recover completely from a brain haemorrhage, doctors have said.
The 47-year-old has been advised to wait up to six weeks before resuming regular activity.
Medical experts have declined to say when the rock star might resume touring.
Michaels, a contestant on The Celebrity Apprentice, was rushed to hospital last week suffering from a severe headache.
Doctors at the Phoenix medical centre where the singer was treated said they will examine him every two weeks until he is declared fully fit.
"This produces a great deal of stress on the body. This is like being involved in an accident from inside," said Dr Joseph Zabramski.
He also declined to confirm whether Michaels had gone home or into a rehabilitation facility.
It is unlikely that his haemorrhage is related to surgery for appendicitis or being injured in the face by a falling piece of set at last year's Tony Awards.
The incident was too long ago, Dr Zabramski said.
Michaels was scheduled to tour this month, but his appearances have been postponed.
Dates planned for the summer and autumn will still go ahead.
Related Internet Links
The BBC is not responsible for the content of external sites.