EastEnders to mark election result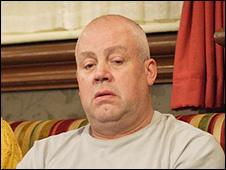 The general election result will be marked in Friday's episode of EastEnders with a last-minute drop-in scene, the BBC has confirmed.
Darren and Minty will discuss the result after seeing a copy of the Walford Gazette displaying the outcome.
All results including a hung parliament have been covered, a spokeswoman said.
EastEnders has marked other landmark events with late scenes, including the death of Michael Jackson.
Football results and the election of President Barack Obama have also been covered with last-minute additions to episodes.
In Friday's scene, Darren and Minty will be seen walking across Albert Square and questioning whether the election result is good or bad for them.
They decide to visit the Queen Victoria pub for a couple of pints "before they put the prices up".
Last year's drop-in scene featuring Denise and Patrick marking the death of Jackson was filmed on the morning after news of his death was announced.