Universities under pressure to pay living wage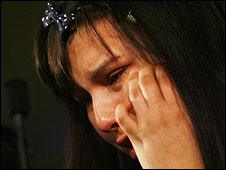 London universities are under pressure from students and community groups to support a campaign to pay cleaners a "living wage".
Six universities in the capital now back a living wage of £7.60 per hour.
King's College is set for talks with campaigners next week - while University College London says it has "no plans" to adopt the living wage.
Students say the gap between high-paid university bosses and low-paid cleaners is "shocking".
A cleaner on the minimum wage of £5.80, working 40-hours a week, 52 weeks a year, would have to work more than 33 years to earn the annual pay package of the provost of University College London.
The University of London Union and London Citizens are campaigning for the living wage of £7.60 per hour to be paid to cleaners in universities in the capital.
They say that the living wage is the threshold that is needed to survive in an expensive city such as London - and is higher than the legal minimum.
It has been adopted by the London School of Economics, Birkbeck, the School of Oriental and African Studies, the London School of Hygiene and Tropical Medicine and Queen Mary.
Goldsmiths says it is introducing the living wage when it renews its cleaning contract.
King's College says it is about to hold an "initial meeting" with the students and representatives of London Citizens.
But University College London says it has "no plans to join the London Living Wage Campaign".
It says it pays its own directly-employed staff above the living wage, but this does not apply to cleaners who are hired through another company.
"UCL considers itself a fair employer and benchmarks its rates of pay and conditions of employment against competitor organisations, in relation to which they are attractive," says the university.
The university's president and provost, Malcolm Grant, is among the best paid university leaders in the UK.
UCL says he was paid £303,492 in 2008-09 - with pension and benefits the total was £404,742.
Students have contrasted the high levels of pay for the senior staff in universities with a reluctance to pay more for low-paid staff.
A report earlier this year found that 19 university heads were earning more than £300,000.
"For publicly-funded organisations there is an additional responsibility to have some kind of conscience," says ULU's vice president, Mazdak Alizadeh.
"There is a clear parallel between high pay at the top and low pay at the bottom.
"Those at the bottom should have enough to get by and not to have to live and work in poverty," he said.
Describing the pay gap as "shocking", he said: "It can't be justified to pay so much at the top when people who work for you are struggling to feed their families."
The living wage campaigners say that low pay condemns workers to a grinding life of poverty, many having to do two or three jobs, with limited time to see their own families.
An election event organised by the Citizens UK community group - and promoters of the living wage - was addressed on Monday by leaders of the three biggest political parties.
They heard the testimony of 14-year-old Tiari Sanchez who described the difficulties of a family trying to survive on her mother's income as a cleaner.
She broke down in tears and was comforted by Labour leader Gordon Brown as she described the lack of money for the basics of food and travel.
Her mother, who worked as a cleaner at the Treasury, had to leave home at 3.30am because she could not afford to travel there by tube.
"If they were paying a living wage, my mum could afford the tube and I would see her for three hours more every day," she told the meeting.
Related Internet Links
The BBC is not responsible for the content of external sites.