Sarah Blasko: Sydney's songbird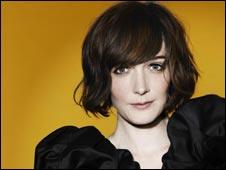 Earlier this year, Sarah Blasko packed up her belongings into a couple of suitcases, and left Sydney's suburbs for the slightly less glamorous environs of East Dulwich.
At home, the 33-year-old is an award-winning singer-songwriter - named best female artist at last year's Arias, and winning the Australian equivalent of the Mercury Prize for her third album, As Day Follows Night.
She's come to the UK to see whether she can replicate that success and, so far, she's won over Lauren Laverne and Janice Long, both of whom have asked her to record live sessions for their radio shows.
Blasko is also on tour with anthemic indie newcomers The Temper Trap - but she's facing an uphill struggle as she plays her delicate, folksy pop songs to a crowd of early arrivals.
In London's Shepherd's Bush Empire, her quieter moments are nearly drowned out by the chatter and bustle of the audience - but Blasko's loose grooves and captivating, breathy voice slowly win them over.
A man in a checked shirt leans over the balcony to shush the entire ground floor and, by the end of the set - a strident, percussive song called No Turning Back - Blasko elicits an enthusiastic round of applause.
"Starting again is difficult," she admits, as she speaks to the BBC the following day.
"It's kind of confronting, being faced with these audiences - but in a good way, because it's refreshing."
"It can be equally hard when people have fixed expectations, so sometimes it's easier when they don't have any and they're pleasantly surprised by your music."
Certainly, reviewers in the UK have been enchanted by Blasko's haunting brand of acoustic pop.
The Telegraph called As Day Follows Night "a gentle beauty", while The Sunday Times praised its "restlessly inventive production" which "conjured up a sonic magic toy shop"
The album was recorded last year in Sweden with Bjorn Yttling - the man responsible for the whistling hook of Peter, Bjorn and John's Young Folks.
Blasko first became aware of Yttling through his string arrangements for Scottish indie heroes Camera Obscura, and later his work with Lykke Li and Taken By Trees.
"I could tell from everything he worked on that he loved simple music," she says. "Things that had an old-fashioned quality about them but were really modern at the same time."
Quaintly, she sent Yttling a hand-written letter with a few demo songs - and he instantly got back in touch.
"He was very direct," Blasko recalls. "He said, 'I want to work on this record'."
The sessions took place in the deepest, darkest days of winter in a "beautiful, 60s studio", with a simple band - piano, double bass, drums and voice - playing together live.
"I just wanted to clear all the crap out of the way," Blasko explains.
"In the past, people had come to see me play live and said: 'Oh wow, it's really different to the recordings'. I gained a sense they wished what I was doing live was more represented on my albums.
"So we ended up making things a lot sparser than we even planned to."
Stripping away the electronic flourishes that characterised her first two records gives Blasko's intoxicating, husky voice the space to explore and inhabit her songs.
The lyrics are raw with naked emotion, as the record charts the messy end of a relationship, and the crisis of self-confidence that followed (the opening lines are: "Lately you've been down on love / You think that it's a poisoned cup").
"The album was written at a really hard time," she confirms.
"It was a point at which I was questioning everything and trying desperately to be hopeful about the future, but really struggling to be convinced."
She is understandably reluctant to go into further detail - explaining that the album is only "partly autobiographical".
"You can magnify an emotion and dramatise something," she continues. "Suddenly it becomes much larger. Then what you're writing about becomes more magical and dreamlike. There's a whole other world created by the music."
Blasko has previously said she wanted to write about heartache without "whining" - and I note that her melodies are sunny and buoyant in contrast to the melancholy subject matter.
"It was important for me to make an album that sounded hopeful," she confirms, "almost defiantly so, because I knew that would get me through and help me see forward."
What comes across is that this sometimes-shy, often pensive singer-songwriter signposted her own way out of a bruising, soul-destroying break-up.
In the process, she created an album she is fiercely proud of - and which gave her the confidence to uproot her life and come to the UK.
"I was quite happy building a career in Australia," she says. "People recognise me, but it's not like Kylie Minogue, so I've managed to be relatively successful outside the commercial radio world.
"But I was so proud of this album, I felt it would be really disappointing - really frustrating - if I didn't try to get it released here."
On stage, she puts the message a little more bluntly: "I've got a CD. It's out in this country and... er, you should get a copy.
"There's no discreet way of saying that."
As Day Follows Night is out now on Dramatico records. Sarah Blasko is supporting The Temper Trap on their UK tour until 16 May.
Related Internet Links
The BBC is not responsible for the content of external sites.