A defensive supermarket price war?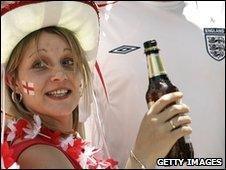 Supermarkets are gearing up for a price war that will push the cost of a pint of beer to within a few pence of a pint of milk.
Multi-pack deals pushed down beer prices during the Spring Bank Holiday to as little as the equivalent of 48p a pint.
With similar deals expected during the summer's football World Cup, the battle lines are being drawn by the big supermarkets in the latest assault on price promotions.
But is this price war the real deal? Can any of the supermarket giants win? Will the war ever end?
Instead of a bid to attract shoppers, some experts suggest it is merely a battle to retain their current custom.
Despite the weather curtailing plans for sun-drenched barbecues, the supermarkets stoked up price competition for alcohol during the Bank Holiday in the UK.
A 24-can case of Boddingtons bitter or Blackthorn cider was on sale at Asda for £9 - the equivalent of 48p a pint.
Tesco sold a 24-pack of beer for £10, or 54p a pint, while Sainsbury's sold 15-can cases of Foster's and Carling for £9, or 77p a pint.
More of the same is expected when football's showpiece tournament kicks off on 11 June.
"They will be losing on every sale of beer and lager during the World Cup," says Ed Garner, research director at industry analysts Kantar Worldpanel.
"It is a weird situation that as demand increases, the price goes down."
The British Retail Consortium says that these promotions are "not the norm".
"There is a lot of nonsense talked about below-cost selling. No business could survive if it routinely sold products for less than it paid the manufacturers for them," says Stephen Robertson, director general of the British Retail Consortium.
"Alcohol is only occasionally sold at less than cost as part of promotions with manufacturers designed to encourage customers to try new brands."
Mr Garner describes the drinks price war as a "land grab" by the supermarkets. The supermarkets say they want to provide good value and prompt customer satisfaction.
Is it not the case that supermarkets - like many teams competing in the World Cup - are concentrating on defence, rather than attack?
Kay Staniland, of retail researchers Assosia, argues that supermarkets need to be seen to be competing on price for a feelgood factor for their customers, even though people do not change supermarkets very often.
Ed Garner agrees, claiming that convenience and habit dominate consumers' choice of supermarket.
"Shopper numbers would fall rapidly if people get the impression that they are missing out," he adds.
"A supermarket has to promote to reassure people."
The most successful promotions of recent times, he says, include Asda's three bottles of wine for £10 offer which has now been copied.
Marks and Spencer also struck a chord with its "Dine in for £10" alternative to eating in a restaurant during the recession.
All these promotions help feed in to a reputation built up over time.
Generally, analysts suggest that Asda and the discount stores such as Aldi and Lidl compete on price. Sainsbury's tends to be price-conscious while offering mainstream, Fairtrade and free-range produce, and Waitrose focuses on quality and the shopping experience.
Whether it persuades shoppers to swap or not, anyone pushing their trolleys down the aisle should expect the promotion push to intensify during big summer events.
The focus of these promotions might depend on whether the British weather serves up a barbecue summer.
Listen to the supermarket bosses and it certainly sounds like they are gearing up for a battle.
Tesco says that it will be looking at promotions across the range of products, including non-food items such as televisions during the World Cup. Sainsbury's says it will also be promoting offers during the tournament.
At the recent launch of Asda's price-matching guarantee, its chief executive Andy Bond said: "From today Asda cannot and will not be beaten on price.
"Our grocery guarantee puts an end to the phoney price wars that most shoppers are sick of."
In response, Morrisons' group trading director Martyn Jones said: "Rather than relying on stunts to attract shoppers, we give customers all-round great value with exciting, deep-cut offers which benefit more shoppers, more often."
Asda's new promotion aims to refund their customers in vouchers if they find their items cheaper elsewhere.
However, according to Kay Staniland, it is not very convenient, as shoppers have to check the price they paid against other stores' prices on a comparison website.
They have 28 days to check, and another 28 days to spend any vouchers. No more than £25 can be claimed in any month and items such as electrical equipment, DVDs and clothing are not included.
The promotion opens a new front in the battle for custom in the grocery sector - and customers can expect the price war to continue for some time to come.
Related Internet Links
The BBC is not responsible for the content of external sites.