Newsweek magazine 'up for sale'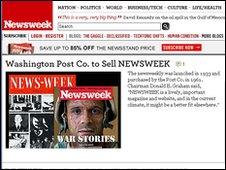 The Washington Post has announced that it is exploring the possibility of selling Newsweek magazine.
The magazine has been losing money in recent years and its owner said it expected the title to make a loss this year as well.
As a result, Washington Post chairman Donald Graham said the magazine "might be a better fit elsewhere".
The newspaper said it had employed investment bank Allen & Company to help find a buyer for the magazine.
"The losses at Newsweek in 2007 to 2009 are a matter of record. Despite heroic efforts on the part of Newsweek's management and staff, we expect to still lose money in 2010. We are exploring all options to fix that problem," said Mr Graham.
Like many magazines across the world, Newsweek has struggled during the downturn with falling advertising revenue.
It has also suffered as readers increasingly rely on free online news.
Newsweek was launched in 1933 and was bought by the Post in 1961.
Related Internet Links
The BBC is not responsible for the content of external sites.