Clydesdale and Yorkshire banks debts improve, NAB says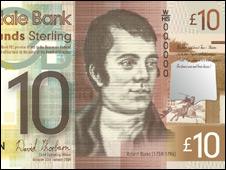 The owner of the Clydesdale and Yorkshire banks has said the UK businesses have seen an fall in the amount of bad debts they faced.
National Australia Bank (NAB) said the amount the two had written off between October and March was down by 28% from the previous six months.
Profits at NAB's UK operations - which includes the two brands - rose by 11% to £264m, it added.
However, NAB said it would continue to take a cautious approach to UK trading.
Overall, NAB saw profits fall by 21% - partly because it had cut customer fees in Australia.
It made 2.1bn Australian dollars ($1.92bn; £1.28bn) in the six months to 31 March.
NAB's UK chief executive, Lynne Peacock, said: "While there are now consistent signs of economic recovery, our cautious approach will remain until longer term trends are evident.
"Our clear focus remains on maintaining our strong capital position and supporting customers."
NAB has about 2.7 million UK customers through Glasgow-based Clydesdale Bank, which incorporates the Yorkshire Bank brand.
The business has 340 branches across the two brands, employing more than 8,200 full time workers in the UK.
NAB is among several firms believed to be weighing up buying UK banking assets - including the "good bank" of Northern Rock, which the government plans to sell.
And after their government bail-outs, both Royal Bank of Scotland and Lloyds Banking Group have been told they must sell some branches to allow greater competition.
Related Internet Links
The BBC is not responsible for the content of external sites.