Coca-Cola 'sickie' ad attacked by Lord Digby Jones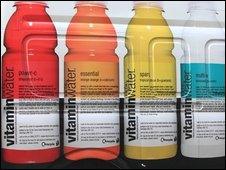 The former head of the CBI, Lord Digby Jones, has criticised Coca-Cola over labelling that appears to condone taking unauthorised sick days.
Wording on a water brand owned by Coca-Cola says: "If you've had to use sick days because you've actually been sick, then you're seriously missing out."
Lord Jones said: "The last thing in the world we need is the younger generation thinking they don't have to work."
The brand's promotion has previously been criticised by a business group.
Last month, the Forum of Private Businesses said it was "unacceptable to encourage workers to throw 'sickies' in order to sell a soft drink."
And late last year, the Advertising Standards Authority also criticised the company's promotional style for the product, Glaceau Vitamin Water, saying it presented "misleading" claims about nutritional benefits.
Slogans such as "more muscles than Brussels" and "keep perky when you're feeling murky" were used.
A Coca-Cola spokesperson defended the marketing approach.
He referred back to a statement released when the complaints first emerged: "This is clearly a tongue-in-cheek reference, very much in keeping with the humorous tone that Glaceau Vitamin Water has adopted with consumers right from its launch.
"We are not seriously suggesting people should call in sick when they are not and on [the] pack, we state: 'Taking a sickie is very, very naughty.'"
Lord Jones called on Coca-Cola to make a personal apology.
He told the BBC's Working Lunch programme: "I would like a senior Coca-Cola executive to come on to TV, apologise and explain why they thought it was funny."
Related Internet Links
The BBC is not responsible for the content of external sites.