Falklands oil firm Rockhopper claims discovery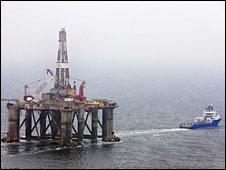 One of the oil and gas companies currently drilling off the coast of the Falkland Islands says it may have struck oil.
Rockhopper Exploration said that initial data collected from one well "indicated an oil discovery".
The find would be the first in North Falkland Basin, the area north of the islands currently being explored.
Earlier this year, another exploration company, Desire Petroleum, said its drilling programme had disappointed.
It is currently drilling further wells after it decided to abandon its first oil well.
UK-based Rockhopper said further tests now needed to be carried out on the well.
"We are extremely excited by the results of this well," said Samuel Moody, managing director of Rockhopper.
"Current indications are that we have made the first oil discovery in the North Falkland Basin. We will now focus on analysing in more detail the data gathered from the well."
Shares in Rockhopper more than doubled following the announcement. Shares in Desire Petroleum were also up 70%.
Two other Falkland oil explorers, Falkland Oil & Gas and Borders & Southern, also saw their share prices rise.
The current exploration of the waters around the Falklands has proved controversial, as Argentina still claims sovereignty over the islands and the surrounding waters.
When the exploration plans were first announced, UK Defence Minister Bill Rammell said the government had a "legitimate right" to build an oil industry in its waters.
Related Internet Links
The BBC is not responsible for the content of external sites.