Wedding guests 'spend £290' on attending marriages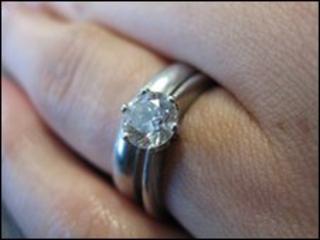 Guests will spend an average of more than £290 on attending weddings this year, according to research.
The figure is a rise from last year's average of £280.
Expenses such as accommodation, transport, a new outfit and a gift, drive up costs for guests, the poll for Direct Line found.
Of those who attended a wedding in the last year or expect to this year, 78% said there was either some or a lot of pressure to spend money.
'Free bar'
As well as the preparation, there are also many costs on the day.
Rachel Southwood, editorial director of Wedding Ideas magazine, said couples were cutting corners and expecting more from their guests.
"Guests are expected to contribute more and more. For example transport used to be provided to take people between venues, but now they have to make their own way," she said.
"Free bars are less common, with more guests having to fork out for drinks. It all adds up."
Poll
The online survey of 2,017 people revealed wedding guests are expected to spend an average of £293.69 on attending weddings this year, compared with £279.47 last year.
However, the poll showed that people are cutting back on spending on gifts.
Guests are paying an average of £78.67 on presents, a drop from last year's £86.51.
Some 44% said they would spend less on a gift if they were short of cash, while just over half said they would cut costs by not buying a new outfit.
Of those polled, 17% would consider not attending the wedding and making up an excuse if they were stumped for cash.
The research also revealed that many people found stag and hen parties to be expensive. Some 72% said they felt financial pressure when attending these events.