Ukraine ponders Putin's gas deal 'impromptu'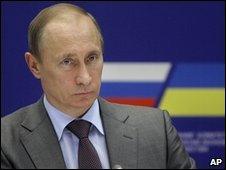 May Day holiday and Victory Day celebrations are over in Russia and Ukraine, and controversial talks between energy officials from the two countries could finally take place, according to Moscow.
To say that Ukrainian politicians - both in power and opposition - were caught by surprise, when on the eve of the early May holidays, Russian Prime Minister Vladimir Putin offered to merger the two countries' gas monopolies, would probably be an understatement.
"We spoke about integration in the nuclear sphere. We are ready to do the same in gas," Mr Putin said after meeting his Ukrainian counterpart Mykola Azarov on the last day of April.
Mr Azarov later said that no such proposal had been discussed or even raised at the meeting, but added that Kiev would "consider it".
Ukrainian President Viktor Yanukovych called Mr Putin's offer "an impromptu", which should be treated as an option for cooperation between Russia and Ukraine on gas.
In turn, the leaders of the 2004 Orange revolution, who lost to pro-Russian Mr Yanukovych in the presidential election earlier this year, paint a really dark picture.
"The proposal...could be viewed as a joke, but a large-scale plan for the liquidation of independent Ukraine is taking place every day in front of our eyes," said ex-Prime Minister Yulia Tymoshenko, a fierce critic of the new government.
However, many experts believe that both Russian gas monopoly Gazprom and Naftogaz of Ukraine could benefit from the potential deal, but it will all depend on the conditions of the agreement, if it is ever reached.
Resources and independence
Economic and political ties between Russia and Ukraine have strengthened significantly since Mr Yanukovych narrowly won the presidential election.
In April, the two countries agreed to extend Russia's fleet stay at the Sevastopol base in the Crimea by 25 years, in return for cheaper supplies of Russian gas.
Ukraine's pro-Western opposition politicians see Russia's latest move as a threat to their country's strategic resources and even sovereignty.
However, even they do not deny that Ukraine's gas transit system needs to be modernised. Though, unlike Mr Yanukovych's government, they clearly favour Western rather than Russian investment.
A week before the merger offer was voiced by Mr Putin, Mr Yanukovych said that his government would never "give away" the country's gas transit system, but was ready to offer its modernised version "as an alternative to the construction of the South Stream pipeline".
As part of Russia's intention to diversify gas supply routes to the European Union (EU), this is the pipeline Russia plans to build under the Black Sea.
Russia has already started building the sister pipepline, the Nord Stream, which will run to EU coutries under the Baltic Sea.
In 2008, before the global crisis, Russia pumped 120bn cubic metres of gas to the EU through Ukraine. Last year, the figure dropped to 93bn cubic metres.
Meanwhile, the joint capacity of the two Streams should reach 118bn cubic metres of gas a year, and Russian officials mention it as a reason why merging Gazprom and Naftogaz would be a good idea for Kiev.
They warn that without such a deal, it could become impossible for Ukraine to fill its transit system with Russian gas.
Mikhail Korchemkin, head of Pennsylvania-based consulting firm East European Gas Analysis, believes that Gazprom does not need the South Stream.
It would take several years to build the underwater pipeline at an estimated cost of 25bn euros ($32bn, £21bn).
At the same time, modernising the Ukrainian gas transit system would require much less investment.
"The cost of transporting gas through the South Stream pipeline would be three times higher than via Ukraine," Mr Korchemkin told the BBC.
Russian officials, however, hint that the South Stream will be built anyway, and if there is a deal with Ukraine, the volumes of gas pumped through the planned pipeline would be far from the maximum possible.
European Commission spokesperson for energy, Marlene Holzner, told the BBC that the press reports regarding Mr Putin's offer were "noted" by the EU, and the issue was regarded as "an internal decision of the governments."
About 20% of the gas the EU needs flows from Russia through Ukraine, and gas supplies from Russia to some European countries have been disrupted in the past because of disputes between Moscow and Kiev.
Ms Holzner stressed that as Ukraine was on track to join the Energy Community Treaty, the country - not an EU member - could come under closer scrutiny from the EU if the deal goes ahead.
Under the EU's rules, there should be no monopoly over access to pipelines, which might not be the case if Russia, a gas exporter, also becomes responsible for the Ukrainian gas transport system.
Mr Yanukovych said last week: "If we decide to begin talks [with Russia about merging Gazprom and Naftogaz], we should include the EU at a certain stage as the main consumer of gas and the main partner."
Many experts and politicians have found themselves puzzled when trying to figure out ways of merging the two hugely different firms.
Naftogaz, unlike Gazprom, is not a public company, which makes it difficult to value it.
According to estimates, the size of the Ukrainian firm might be between 5% to 10% of Gazprom's market capitalisation, which stood at $140bn when Mr Putin made his offer.
Accordingly, if Kiev exchanges its 100% stake in Naftogaz for a corresponding share in a new joint company with Gazprom, the Ukrainian gas industry would effectively be taken over by Russia.
However, it will not go well with many political forces in Ukraine, eager to drift away from what they see as the former colonial master.
Volodymyr Omelchenko, an energy expert at the Kiev-based Razumkov Centre for Economic and Political Studies, believes that there are some other business obstacles.
"Big oligarch groups behind Naftogaz have no interest in such a project [to merger Gazprom and Naftogaz]," he said.
According to Mr Azarov, he told Mr Putin that Ukraine could agree "without questions" to a merger of Gazprom and Naftogaz on "equal terms".
Experts believe that the two companies could end up exchanging equal assets, rather than create a new entity.
"For example, Ukraine gets a stake in a natural gas field in Russia, while Russia gains direct access to Ukraine's underground gas storages," said Mr Korchemkin from East European Gas Analysis.
In a period of one week Mr Putin visited Austria and Italy, where he managed to gain more support for the South Stream project, and also made the gas merger offer to Ukraine.
Ukrainian politicians and entrepreneurs had a lot to think of during the two early May holidays, analysing these signals sent by Moscow.
Related Internet Links
The BBC is not responsible for the content of external sites.