Quentin Tarantino to lead Venice film jury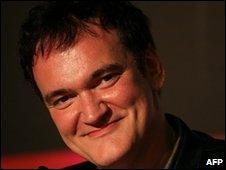 US director Quentin Tarantino is to head the jury at this year's Venice Film Festival, it has been announced.
The Reservoir Dogs and Pulp Fiction creator will lead the panel of judges awarding the festival's main prize, The Golden Lion.
He takes over the role from Taiwanese-born director Ang Lee, who led last year's jury that gave the Golden Lion to Israeli film Lebanon.
This year's festival, which is held on The Lido, will run from 1-11 September.
Tarantino was nominated for an Academy Award in 2010 for best director and screenplay for his hit movie Inglourious Basterds, which won a best supporting actor Oscar for Christoph Waltz.
He won a Palme d'Or at the Cannes Film Festival in 1994 for Pulp Fiction, but has never had a film in competition at the Venice Film Festival.
Tarantino is seen as one of the rare auteurs in today's Hollywood and is ardent fan of Italian film, presenting retrospectives at Venice in previous years.
Related Internet Links
The BBC is not responsible for the content of external sites.