RBS: first quarter loss cut as bad debt costs fall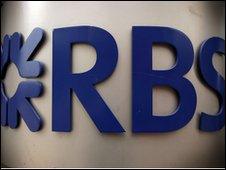 Losses at Royal Bank of Scotland have narrowed in the first three months of 2010 after a drop in bad debts.
The bank announced attributable - or net - losses of £248m, a sharp improvement on £765m lost in the same quarter last year.
Charges for losses on bad debts fell 14%, though was still a hefty £2.7bn, down from £2.9bn.
Stephen Hester, RBS's chief executive, said: "Economic recovery is benefiting our customers and thereby ourselves."
He said better bad debt levels meant RBS was able to post an operating profit of £713m, against a loss of £1.35bn last time.
The profit came after what the bank called "one of the most significant corporate restructurings" ever made.
After one-off costs, including £500m paid into a government-backed insurance scheme for bad debts, RBS reported a pre-tax loss of £21m.
But Mr Hester warned about the risks of fall-out from the Greek debt crisis spreading to other countries.
And he added: "Certain sectors, like real estate, also face a longer term work-out and there are ongoing losses for banks to absorb."
BBC business editor Robert Peston said: "For all the optimism generated by Barclays and Lloyds that the worst of the banks' losses are behind us, [RBS] reminds us that the total rehabilitation of that important industry is still some way off. "
But Richard Hunter, head of UK Equities at stockbrokers Hargreaves Lansdown, said: "There are some grounds for optimism within the statement, notwithstanding the challenges facing the macro-economic environment."
The UK taxpayer owns 84% of RBS after it was bailed out at the end of 2008.
Mr Hester is implementing a five-year plan to restore the part-nationalised bank to normality.
He said: "Today we show that we remain on track for delivery of that plan. We have made good progress, but there is still significant work to be done."
Profits from RBS's global banking and markets arm more than halved to £1.47bn from £3.47bn a year ago, when a sudden rebound in the capital markets lifted profits across the sector.
RBS said that disposals forced on it by European Commission regulators, including the sale of 318 branches and its card payment processing business WorldPay, were on track.
Last week, Lloyds Banking Group, 43%-owned by the UK taxpayer, announced an unexpected return to profit in the first quarter, due in part to reductions in bad debts.
Related Internet Links
The BBC is not responsible for the content of external sites.