Bret Michaels of Poison to 'continue to rock the world'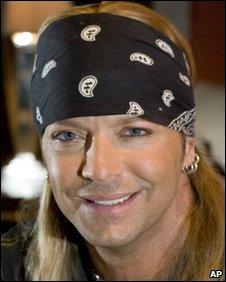 Bret Michaels says he has been given a second chance and will "continue to rock the world" after being told he will recover from a brain haemorrhage.
The Poison singer, 47, was speaking for the first time since he was rushed to hospital two weeks ago suffering from a severe headache.
"It just wasn't my time yet, I really believe that," he told People magazine.
He said the haemorrhage "sounded like a handgun". Earlier this week, doctors said he should make a full recovery.
"As painful as this experience has been, I was given a second chance, right?" he said.
"I don't want to sit around every night worrying this is going to happen again."
The singer, who can be seen on US TV on The Celebrity Apprentice, has been advised to wait up to six weeks before resuming regular activity.
Doctors at the Phoenix hospital where he was treated said they would examine him every two weeks until he was declared fully fit.
"My first goal is to get back 100%," he said.
"I want to continue to rock the world and I want to continue to love my family and be a good father."
Michaels, who has two daughters, was found to have had a subarachnoid haemorrhage, or bleeding onto the surface of the brain.
"Of all the ways that I thought I could go out, that wasn't one of them," he said.
"Definitely not a rock star way to go out."
Related Internet Links
The BBC is not responsible for the content of external sites.