House prices up 6.6% in past year, the Halifax says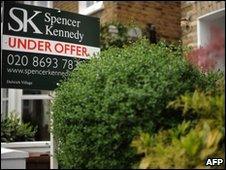 House prices have gone up by 6.6% in the past year, according to the latest Halifax house price survey.
Although this was the fastest annual rate of increase since October 2007, the mortgage lender stressed that the trend in recent months has been for price rises to slow down.
Prices fell slightly in April by 0.1%, taking the cost of the average UK home to £168,202.
The Halifax predicted that prices would be flat over the course of 2010.
"The underlying rate of house price growth has slowed in recent months following the relatively sharp rebound, albeit from a low base, in the second half of 2009," said Martin Ellis, housing economist at the mortgage lender.
"New sales instructions have risen, helping to push up the stock of unsold properties in recent months.
"As a result, the imbalance between supply and demand is easing somewhat," he said.
The annual rate of house price inflation has been picking up steadily since last November, according to the Halifax's monthly surveys.
Despite this, the lender said prices had in fact dropped in two of the past three months, suggesting the upward trend might now be flattening out.
A similar picture has been painted by rival figures from the Nationwide building society.
Last week it estimated the current rate of house price inflation to be at a higher rate than the Halifax, at 10.5%.
But it also said that price increases had been tailing off, and in the past three months prices had been just 1.1% higher than in the preceding three months.
The Halifax's Mr Ellis said industry-wide figures showed that activity in the market had weakened in the past few months.
The data, from the Bank of England, showed that the number of mortgages approved to finance house purchases were 18% lower in the first three months of 2010 than in the last three months of 2009.
Howard Archer at IHS Global Insight said: "The dip in house prices reported by the Halifax in April and mixed data overall in recent months reinforces our doubts that house prices can make significant gains over the coming months."
Related Internet Links
The BBC is not responsible for the content of external sites.