Top universities in Russell Group fees review protest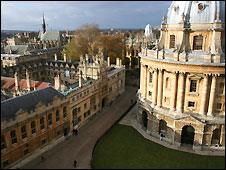 Students from 20 leading universities are to protest against what they say are "underhand" tactics in the review of tuition fees in England.
They are angry that the Russell Group, which represents their universities, is refusing to publish evidence it submitted to the official fees review.
Students are to deliver a protest letter on Monday to the offices of the Russell Group.
The Russell Group says it does not want documents to be seen "out of context".
The students want the Russell Group to publish its evidence given to the review and to give a date for the publication of its report on fees.
"It is completely unacceptable that a document from our universities that so directly impacts on our students is being kept hidden," says Emmanuel Akpan-Inwang from the students' union at the London School of Economics.
The Russell Group rejects any claim of secrecy, saying that the submission to the fees review was always intended as part of a wider report on student funding - and that this will be published in the next few weeks.
Mr Akpan-Inwang is chair of the Aldwych Group - which represents students at Russell Group universities.
They are angry that the Russell Group has asked the cross-party review of fees to keep its submission confidential.
This review, chaired by Lord Browne, is considering whether fees and interest rates for student loans should be increased.
Students want the views of the influential Russell Group to be made public, alongside the views of other university groups which have been published.
Attempts by students from Oxford University to use freedom of information requests to force the publication of the Russell Group's submission were rejected by the government.
The students accuse university leaders of trying to "stifle debate".
"As student representatives, we find it disingenuous and underhand that the UK's elite universities have refused several freedom of information requests asking for its submissions to be published," says Mr Akpan-Inwang.
"The outcome of the Browne Review may represent the most significant change to higher education funding in decades, and students deserve to know what is being said by an organisation representing our universities.
"It is completely unacceptable that it has been withheld until after the election and clear that the Russell Group are attempting to stifle debate."
The Russell Group has rejected suggestions that there is anything being concealed from students.
The group says that it did not want to publish the submission to the fees review out of context - when it forms part of a wider report.
"We submitted our early findings for this report to the Browne Review in time for their first deadline and asked the review team to treat our advice as confidential, pending the publication of our final report."
Related Internet Links
The BBC is not responsible for the content of external sites.