Countrywide Financial in $600m lawsuit settlement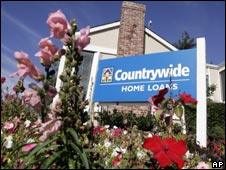 Countrywide Financial, the mortgage lender acquired by Bank of America, has agreed to pay former investors $600m (£405m) to settle a lawsuit.
The class action covers investors who bought securities between 12 March 2004 and 7 March 2008. They say they were misled over the firm's practices.
Countrywide's former auditor KPMG will pay $24m as part of the settlement.
Countrywide was a key participant in the sub-prime sector and was hit hard by the downturn in the housing market.
Bank of America agreed to take over Countrywide in January 2008, when the lender was rumoured to be close to bankruptcy.
A Bank of America spokeswoman said the bank agreed to the settlement to avoid further costs and litigation, and that Countrywide denied wrongdoing.
The lawsuit was led by several pension funds.
Related Internet Links
The BBC is not responsible for the content of external sites.