Car sale growth in China 'slows'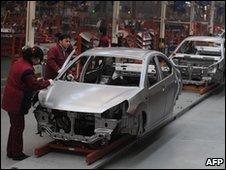 The growth of car sales in China slowed sharply last month, a report by a private research group suggests.
The number of cars sold in April was up 34% on the same month in 2009, while March's figure had been 63% higher.
The Shanghai-based China Passenger Car Association said 1.11 million cars were sold in April, down from 1.26 million in March.
Domestic car sales in China have surged over the past couple of years as many richer families buy their first cars.
A slowing growth rate in 2010 has been widely anticipated - not least because sales are being compared with 2009 levels which was seen as a particularly strong year for domestic demand within China.
Total sales growth for the year is expected to be between 15% and 17%.
"It's impossible for people to buy autos like they buy radishes or cabbages, and for most people autos are still precious goods requiring careful calculations and budgeting," the state-run newspaper Global Times said in an editorial.
The majority of sales in China are domestically produced vehicles - built through joint ventures with international carmakers such as General Motors, which is working with Shanghai Automotive Industry Corp, and Ford, which has a joint venture with Changan.