Test pressure - what pressure?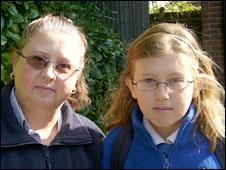 As hundreds of schools boycott Sats in England, we visit one where the tests are going ahead.
It doesn't feel much like an exam day at Beatrix Potter Primary School in Earlsfield, south London.
There's not much sense of stress and pressure at the school gates.
And among the parents and children arriving, there appears to be broad support for the head teacher's decision to press ahead with the tests despite a national boycott by two unions.
Jane Renvoize and her 11-year-old daughter, Aimee, appear extremely calm.
On the national tests that have brought industrial action from incensed heads and deputies, Mrs Renvoize says: "On the one hand they're a good thing. On the other hand I don't like the league tables."
But she says neither she nor her daughter feels very nervous or stressed by the tests.
"In some schools they might be stressed but this school is really good like that," she adds.
And perhaps that is why Stephen Neale's decision to push ahead with the national curriculum tests for his 11-year-old pupils has not met much opposition.
He says: "There are lots of schools probably doing practice Sats testing right up to the last minute.
"On Friday we had VE celebrations going on at the school all day."
For Mr Neale, an NAHT head, it is not the tests that are the problem but the school league tables.
He says: "Assessment is what we need, but what I do have a problem with what it creates."
But he feels an eleventh hour boycott is not the right way to address the issue.
"The vote came too late. All the kids have been preparing for it and a boycott really sends the wrong message to them."
Children were already confused after the science tests were cancelled last year, he says.
"Some of the children were saying, 'why do we have to do these tests?'.
"If we are going to try to tackle this, we are going to have to do it in a different way."
He is quite clear that most parents like the idea of testing and the reassurance that they give.
And this is certainly the case for Susan O'Brien, whose son Callum is being tested.
She does not believe the so-called "high-stakes" testing regime has narrowed her son's education, as is so often claimed to be the outcome.
She adds: "When you make a decision for a school you consider these things. We certainly looked at the Sats results for this school."
She says she appreciated the information on schools contained in the league tables.
"I don't know how else you would measure them really."
And she insists her son has not been stressed by the tests.
"I've told him they are important and that he has to try really hard."
Mr Neale admits that it takes quite a lot of confidence to have a more relaxed approach to the tests that define a school's position in the league tables.
He says: "I've been doing this a long time. I am sure there must be many a young head who does not know what's going on in at this point in time."
The stress and the uncertainty of the boycott and the tests themselves seems to have by-passed most of the children and parents at this school.
As 11-year-old Chandni puts it a few minutes before sitting her first paper: "I am not nervous because I have practised lots and we did lots of revision at school.
"Tests and exams are all part of what going to school is about."
Related Internet Links
The BBC is not responsible for the content of external sites.