UK retail sales 'fell in April'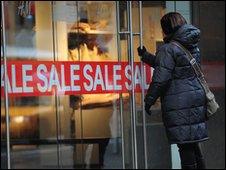 UK retail sales fell in April owing to the timing of Easter and uncertainty from consumers ahead of the general election, figures indicate.
The total value of sales fell by 0.2% in April from a year earlier, with the like-for-like drop at 2.3%, the British Retail Consortium (BRC) said.
Food sales fell back, but this was distorted because of the early Easter compared with last year.
The figures for this year only included Easter Sunday and Monday.
The previous month's figures had been boosted by the inclusion of the first two days of the long Easter weekend, and had showed an increase of 4.4% in like-for-like sales.
The three-month average, which diluted the Easter timing distortions, showed that like-for-like sales were up by 1.6% on a year earlier. The total value of sales was up 3.8%.
"April's sales were down on a year ago, but that's because of the Easter effect. This April's trading period only included the last two days of Easter, while last year's had the entire build-up and holiday weekend," said Stephen Robertson, director general of the BRC.
"Both food and non-food sales growth slipped back this April because people had already done their Easter spending in the previous month."
But he said that there had been "caution" among consumers ahead of the general election. Many had simply been shopping for essentials or to replace items, rather than embarking on discretionary spending.
"There is no question customers are more willing to spend than 12 months ago but they are still nervous," Mr Robertson said.
"People need to know how a new government's moves to tackle the deficit will affect their incomes and jobs. Even if the measures are tough, knowing what they are could be better than the current uncertainty."
The BRC said April was a tough month for electronics retailers. It added that sales of men's and children's clothing slowed, and homeware trading was below levels of a year earlier.
Related Internet Links
The BBC is not responsible for the content of external sites.