Housing market still picking up, surveyors say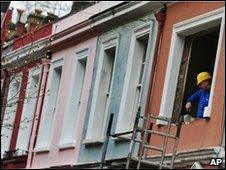 The UK's property market is benefiting from its normal spring pick up, the Royal Institution of Chartered Surveyors (Rics) said.
Its latest monthly survey of 245 members who work as estate agents suggests that prices are still going up.
In April, 17% more surveyors said prices were rising rather than falling, up from 9% in March.
Sales have picked up very slightly as well, Rics reported.
The average number of homes sold per surveyor rose to 17.4 over the three months to the end of April.
A rise in the number of homes being put up for sale again outstripped the increase in enquiries from potential new buyers, which might suggest downward pressure on prices in the coming months.
But overall, Rics said its members had become much more optimistic about both sales and prices.
"The start of spring has seen renewed optimism with the good weather improving sentiment and surveyors expecting an increase in both sales and house prices," said Rics spokesman Jeremy Leaf.
"The housing market often sees an increase in new instructions in the early part of the year with sales boosted in the spring and this year has been no exception," he added.
The feedback from Rics members contrasts with other recent reports on the state of the property market.
Although prices have risen noticeably in the past year, the upward trend has been easing off in recent months, according to lenders such as the Halifax and Nationwide.
Sales have been distinctly sluggish too across the UK.
Although slightly higher than in the first three months of 2009, sales were still lower than in the first quarter of any year since statistics were first kept in their present form by HM Revenue & Customs in 1977.
According to Rics, whether prices are rising or falling depends very much on where you live.
They have been rising fastest in London and the South East, but are falling in Yorkshire, Humberside, Wales and Northern Ireland.
Related Internet Links
The BBC is not responsible for the content of external sites.