Kraft UK headquarters to close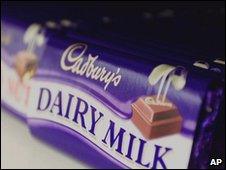 Kraft Foods, the new owner of chocolate maker Cadbury, has announced plans to close its UK headquarters.
The US company said it would move staff from its Cheltenham office to Cadbury's current headquarters in Uxbridge, and Cadbury offices in Bournville.
Kraft said it planned to make Bournville, in Birmingham, the historical home of Cadbury, a centre for research and development.
But the food giant did not say if job losses would result from the changes.
Kraft's Cheltenham office will close in 2011.
Cadbury's Science Centre in Reading is to become a global science and technology centre.
Kraft bought Cadbury in a controversial takeover at the beginning of the year.
It was feared that losing the iconic Cadbury to Kraft would lead to job cuts and factory closures.
So far 150 jobs have already been lost at the Cadbury HQ in Uxbridge and the closure of one factory been announced.
Kraft's proposals will, it believes, help strengthen collaboration between staff and boost performance.
Nick Bunker, President of Kraft Foods UK, said: "We would be very sad to leave Cheltenham and we would provide significant resources to support sites during the move. However, the business rationale is compelling."
Kraft has come under fire for the way it has so far handled the takeover of Cadbury.
It reneged on a commitment to keep its plant at Sommerville in Keynsham open which angered workers and politicians alike.
Putting Bournville at the heart of Kraft's chocolate research and development work will go some way to reassure workers and the British people that Kraft is committed to the long term future of Cadbury in the UK.
The Bournville so called 'Centre of Excellence' will work on new product development for brands such as Cadbury Dairy Milk, Toblerone, Green and Black's and Suchard.
Kraft's UK boss Nick Bunker called the move "a vote of confidence" in the UK.
Related Internet Links
The BBC is not responsible for the content of external sites.