Ken Loach film Route Irish is late Cannes entry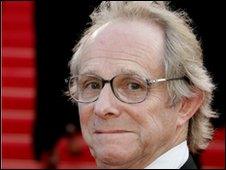 Ken Loach film Route Irish has entered the Cannes Film Festival competition just days before the prestigious event opens in the south of France.
The film tells the story of two Liverpudlian ex-soldiers who go to Iraq to work as private contractors.
Loach's late entry, to be screened on 20 May, brings the number of films in competition for the Palme d'Or to 19.
The winner will be announced on 23 May by the Cannes jury, headed up this year by director Tim Burton.
Loach's The Wind That Shakes the Barley won the director the coveted Palme d'Or in 2006.
But Loach missed out last year when his film Looking for Eric was in competition - the award was eventually won by Austrian film The White Ribbon.
Loach began his career in 1966 with Cathy Come Home, a film which explored the subject of homelessness.
Kes followed a couple of years later and the story of an abused teenager and his falcon remains one of Loache's best-loved films.
His other films include Sweet Sixteen, My Name is Joe and It's A Free World.
Ridley Scott's Robin Hood, starring Russell Crowe, will open this year's festival on Wednesday.