Unite union seeks fresh British Airways strike talks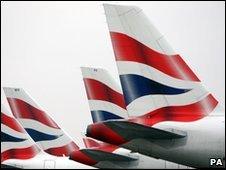 The British Airways cabin crew union, Unite, has urged the airline to hold fresh talks to avert strikes which could disrupt thousands of travellers.
Members plan to walk out for four separate five-day strikes as part of a bitter dispute over cost-cutting plans.
The first strike will begin on 18 May, ending on 22 May, with further strikes planned on 24 May, 30 May and 5 June.
But the union said BA could still prevent the walk-outs if it opened what it called "meaningful negotiations".
The dates were announced on Monday.
The newly-announced industrial action has the potential to disrupt travel plans for thousands as staff will walk out for a total of 20 days, covering spring bank holiday and school half-term holidays.
Football fans planning to fly out to the World Cup in South Africa could also be affected, with the last of the five-day stoppages beginning on the first weekend of the tournament.
However England's first game against the United States kicks off on 12 June, after the final strike has ended.
Unite members rejected a fresh deal for cabin crew earlier this month.
In a statement, Unite's joint general secretaries Derek Simpson and Tony Woodley blamed BA for forcing cabin crew to again resort to industrial action.
"There can be no industrial peace without meaningful negotiations and while management victimises trade unionists and uses disciplinary procedures in a witch-hunt," they said, claiming that a Unite approach made over the weekend had been rejected.
"The seven days' notice period is sufficient time for BA management to do the sensible thing and reopen meaningful negotiations," they added.
BA defended its approach to the latest negotiations.
In a statement, the airline said: "We have made a very fair offer, which meets the concerns the union raised during 14 months of negotiations and also ensures that our crew remain the best rewarded in the UK. That offer remains available."
It condemned the decision to strike, saying it showed "a callous disregard" for BA customers and staff, but added that it was already planning contingency measures to ensure as many passengers as possible fly during the strike periods.
BBC employment correspondent Martin Shankleman said: "While the union says it is open to further talks, there is little sign that either side is prepared to make the concessions needed to end this bitter dispute."
The union said there was a turnout of 71% of the cabin crew it represents, and 81% voted against BA's offer last week, which sought to resolve the dispute over pay and working conditions.
Details of that deal were not given, but Unite said BA had failed to restore the travel perks it withdrew from staff involved in the previous strikes in March.
Those stoppages grounded hundreds of flights and cost BA an estimated £45m.
All flights from Gatwick and London City airports are expected to operate as normal, BA said, while a "substantial" number of long-haul flights from Heathrow will run as planned.
There will be daily flights from Heathrow to all short-haul destinations, BA said, but it did not give any numbers.
As with the strikes in March, the airline is also planning to lease extra aircraft from other carriers and re-book passengers on cancelled flights on to other airlines.
The long-running dispute between BA and Unite concerns the airline's cost-cutting plans, which include reducing the numbers of cabin crew on long-haul flights.
Related Internet Links
The BBC is not responsible for the content of external sites.