T-Mobile and Orange brands to remain in UK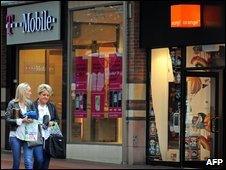 Both the Orange and T-Mobile brands will be retained in the UK, their parent company has said.
France Telecom and Deutsche Telekom merged their UK businesses last year - leading to speculation that the T-Mobile brand would be phased out.
But the boss of the enlarged business said both brands had "personalities" they wanted to keep.
The merged firm has more than 30 million mobile and broadband customers and a 37% market share in the UK.
Chief executive Tom Alexander said that Orange had a "premium element", while T-Mobile had a "straightforward, value-orientated appeal".
However, while customers will see no branding changes, the parent company of the two operations is to be known as Everything, Everywhere.
"Together, we are Britain's biggest communications company," Mr Alexander said.
The merger is expected to lead to cost savings of about £3.5bn, including sharing mobile phone masts. There will also be back-office job cuts.
Separately on Tuesday, TalkTalk, which is the UK's second-largest broadband provider behind BT, reported that annual sales were up by 22% in the year to the end of March.
The group bought Tiscali last July and split from phone retailer Carphone Warehouse in March.
TalkTalk said it had added 42,000 broadband customers in the three months to the end of March, meaning it now had 4.2 million users
Related Internet Links
The BBC is not responsible for the content of external sites.