Orlando Bloom burglary: Reality star admits charge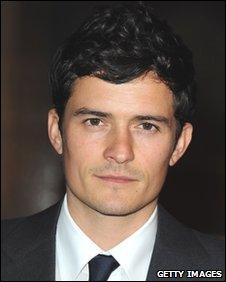 An 18-year-old reality TV star has been sentenced to six months in jail after she admitted taking part in a burglary at actor Orlando Bloom's LA home.
Alexis Neiers earlier told police she was at the house during a July 2009 burglary in which paintings and watches were stolen but denied taking anything.
Five other people accused of a series of break-ins at the homes of Hollywood stars are awaiting trial.
Neiers and her two sisters appear in E! show Pretty Wild.
It follows the lives of "three sisters whose jaw-dropping looks and unstructured upbringing make them magnets for Tinseltown's temptations".
Neiers also told police she was being sick outside Bloom's house after "drinking a lot".
She was also sentenced at Los Angeles Superior Court to three years of probation with the threat of a further two-year prison sentence if she violates the terms.
In the US, criminals are punished in prisons for more serious crimes and in jails for lesser offences.
Neiers, who was facing up to six years in prison if convicted at trial, will begin her sentence on 24 June.
"After lengthy considerations and fighting the best pre-trial fight we could, we decided it was in Alexis's best interests to take responsibility for her small part in this incident," her defence lawyer Jeffery K Rubenstein said.
British actor Bloom, who has starred in the hit Pirates of the Caribbean films, had been expected to testify against her if the case had gone to full trial.
Burglaries on the homes of a number of celebrities, including Paris Hilton, Lindsay Lohan and Megan Fox, were carried out between December 2008 and September 2009.
None was at home at the times of the break-ins, which led to the theft of $3m (£2m) worth of property.
According to police documents released in November, 19-year-old Nicholas Prugo confessed to the break-ins and implicated several other suspects.
He and four others face a 25 May hearing to find out if there is enough evidence for a trial.
Related Internet Links
The BBC is not responsible for the content of external sites.