Microsoft Office 2010 takes aim at Google Docs
By Jonathan Fildes
Technology reporter, BBC News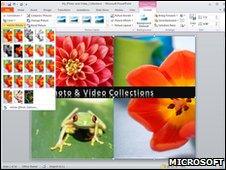 Microsoft has unleashed its latest weapon in its ongoing battle with Google.
The software giant has launched its flagship product Office 2010, aimed at businesses and home users.
The latest version of the software has a free online component - called Office Web Apps.
Analysts believe the web offering is a response to Google, which has been encroaching on Microsoft's core business with its free online tools.
Crucially, Microsoft will also offer its online office suite to all users of one of the world's most popular social networking sites, Facebook.
"There's no question - Microsoft is responding to Google's threat," said Whit Andrews, analyst at research firm Gartner.
Google and Microsoft have increasingly begun to stray into each other's traditional markets.
Microsoft has thrown its full weight behind its search engine Bing, whilst Google is about to launch its own operating system, known as Chrome OS.
The battle for the Office software market started in 2006 when the search giant launched the first elements of its Google Docs.
"Until Google emerged with a credible suite of networked applications, Microsoft was not compelled to do anything."
Google Docs now offers word-processing, spreadsheet software and a presentation tool, amongst others. Businesses can pay for premium versions.
"Each release of Office has a new set of competitors and we take those very seriously," Jeff Teper, vice president of the Microsoft Business Division told BBC News.
"[Google] has introduced a product that they have tried to target businesses with - it hasn't done very well."
Google Docs currently has a small (4%) but growing share of the market.
By contrast, Microsoft dominates the office software space, with a market share of more than 94%, according to Gartner. The vast majority of sales are to businesses.
Business "is still overwhelmingly a Microsoft world", said Sheri McLeish, analyst at Forrester Research.
Microsoft retains its dominant position despite the free offerings from Google and other alternatives such as Zoho or the free office suite OpenOffice.org.
Ahead of Microsoft's launch Google posted a blog urging businesses to switch to its software, claiming that it represents a real alternative".
"If you're considering upgrading Office with Office, we'd encourage you to consider an alternative: upgrading Office with Google Docs," it read.
Despite, Google's focus on businesses, Mr Andrews said its message and software were likely to appeal to younger people, who have not necessarily grown up using Microsoft products.
"If all your content is generated in the Google apps system and it lives there, you would need to have a really good reason to move," he told BBC News.
Office Web Apps offers a free version of programs such as Word, Excel and PowerPoint.
The service allows people to access and edit documents from within a web browser, as well as share and collaborate on files.
It lacks the entire gamut of features found in the desktop versions, but is designed, in part, to entice consumers to try Microsoft's products, said Mr Teper.
"One of the reasons why we are so excited about the Office Web applications for free...is the appeal to consumers; to get new people to try the latest versions."
Microsoft has said that the suite will be offered free to its 400 million Windows Live users.
"It is critical that Microsoft captures users who are not tethered to the same desktop PC every day," said Mr Andrews.
"They need to be able to serve the growing netbook community and people using their phones."
The firm has also integrated the social web into its software in a bid to attract new customers and keep the desktop software relevant in an increasingly online world.
Its Social Connector service allows people to suck information from social networks such as LinkedIn and MySpace into the Office Outlook e-mail program.
The firm has also released a trial version of its online apps that integrates with Facebook.
"With the changes that have happened with social networking and web applications, Microsoft is bringing [Office] up to the present day," said Ms McLeish.
The software for PCs and phones was launched at an event in New York on 12 May. Business customers will be able to use it straight away, whilst home users in the UK will have to wait until 15 June to buy the full version.
Related Internet Links
The BBC is not responsible for the content of external sites.