Slight rise in UK adult learners, survey suggests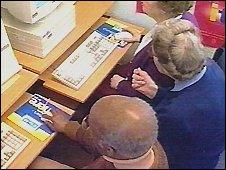 There has been a slight rise in the number of adults in the UK taking part in learning, a survey suggests.
A survey of 5,000 adults by the National Institute of Adult Continuing Education found 21% were involved in learning, up from a low in 2009 of 18%.
Of those surveyed, 47% expected to take up a course in the next three years.
More women (23%) than men (20%) were involved in learning and the older people were, the less likely they were to participate.
Just 8% of those aged 75 and over and 10% of those aged 65 to 74 identified themselves as learners.
A total of 58% of those aged 17 to 19, and 40% of those aged 20 to 24, not surprisingly, said they were engaged in some learning activity.
The Niace survey of 4,964 adults aged 17 and over asked respondents to assess whether or not they identified themselves as a learner.
The learning involved could be formal, qualifications, work-based, online or self-directed and covers a range of areas from academic subjects to recreational activities.
The poll showed socio-economic class remained a key predictor of adult participation in learning.
In the AB classes, 28% were involved in learning and 27% in the C1 category and 17% in the C2 group were involved in adult classes.
But in the DE category, just 14% were engaged in learning. However, this was an improvement on participation rates in 2009, when 11% in this group were involved in education.
The poll found 82% of those surveyed agreed that learning was "enjoyable for its own sake" and 77% agreed that learning as an adult had "a positive impact on your child's chances at school".
Chief executive of Niace Alan Tuckett welcomed the increase in adult learners, saying there was "a sea change in adults' engagement in learning".
He added: "Perhaps the most striking result in the survey is the first statistically significant improvement in participation by adults from social class DE - the poorest cohort, comprising unemployed people, semi- and unskilled adults and retired people.
"Yet just to maintain these gains will be challenging, when public finances are under so much pressure. Things may be moving in the right direction, but they have some way to go."
Related Internet Links
The BBC is not responsible for the content of external sites.