View host Barbara Walters to undergo heart surgery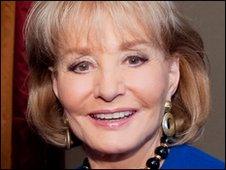 Veteran US TV host Barbara Walters is to undergo heart surgery, the 80-year-old has revealed.
Walters will have surgery later this week to replace a faulty heart valve, and will take the summer off from The View talk show to recuperate.
She told viewers she had known about her condition for a while, and decided with her doctors when would be the best time to have the surgery.
"Since the summer is coming up I can take a nice vacation," she said.
Walters is one of the best-known personalities on US TV news.
She started out on the Today morning news show in the 1960s, and became the first woman to anchor a network evening news programme in 1976.
During her career, she has interviewed Fidel Castro, Margaret Thatcher, Indira Gandhi, Michael Jackson, several US presidents and scores of other world figures.
In 1997 she created the daily round-table talk show The View.
Whoopi Goldberg, her co-host on The View, asked Walters if she was scared about the impending surgery.
Walters said "nobody wants to have this kind of surgery" but added it has become more commonplace and done safely.
She said she had not felt any symptoms from the narrowing of the heart valve, which can worsen and restrict the flow of blood to the heart.
Related Internet Links
The BBC is not responsible for the content of external sites.