Beatles press conference tapes auctioned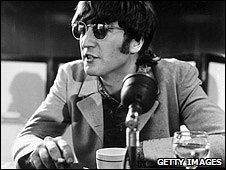 A recording of a 1966 Beatles press conference at which John Lennon was quizzed over his controversial comments about Jesus is to be auctioned.
The reel-to-reel recording is estimated to fetch up to $25,000 (£16,800) at a Los Angeles sale on 13 June.
The tapes of the 17 August press conference in Toronto were stored in a drawer for more than 40 years, Bonhams and Butterfields said.
Lennon sparked outrage when he said the band were "more popular" than Jesus.
The recording, made by a young photojournalist and Beatles fan at the King Edward Hotel, includes Lennon and Paul McCartney joking about the longevity of The Beatles.
"We're obviously not gonna go around holding hands forever," Lennon says.
"It would be a bit, you know, embarrassing at 35," McCartney adds.
Although comments from the press conference were widely reported, it is thought to be the only surviving recording.
"We do know what they said that day, we have just never heard it," Margaret Barrett, director of entertainment memorabilia at Bonhams and Butterfields said.
The owner of the tapes had tried to sell them in 1966 but "no-one thought they were important", she added.
The tapes form part of a sale which includes a rare watercolour from 1940 Walt Disney film Pinocchio, estimated to fetch up to $40,000 (£26,800).
One of Michael Jackson's white rhinestone gloves - predicted to sell for between $14,000 and $16,000 (£9,400 and £10,700) - is also up for auction.
Related Internet Links
The BBC is not responsible for the content of external sites.