German economic growth beat forecasts in first quarter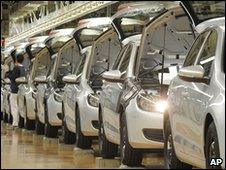 The German economy, Europe's largest, expanded 0.2% in the first quarter of 2010, beating forecasts of zero growth.
Many analysts predicted German gross domestic product would stagnate in the quarter.
The country's statistics office, Destatis, also revised growth upwards in the fourth quarter of 2009 to 0.2% from its first estimate of no growth.
This meant that GDP contraction for 2009 had been reduced to 4.9%, Destatis said.
"The German economy is slowly gaining momentum," Destatis said in a statement.
The better-than-expected first quarter figure came despite Germany's harsh winter, which hampered construction activity.
Destatis said that exports and investments in industrial equipment were the main drivers of growth.
The German government has forecast growth of 1.4% this year.
Germany went into recession in 2008 as demand for its exports dried up amid the global recession.
After shrinking for four straight quarters, including a 3.5% fall in the first quarter of 2009, Germany emerged from recession in the second quarter of last year.
Germany lost its position as the world's biggest exporter to China last year, but exports have been recovering recently.
Earlier this month, the government said exports in April jumped by 10.7% compared with March and were up by nearly a quarter from a year ago.
Related Internet Links
The BBC is not responsible for the content of external sites.