Glee creator Ryan Murphy urges magazine snub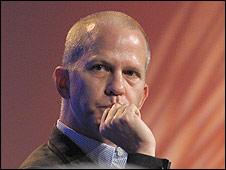 Glee creator Ryan Murphy has called for a boycott of Newsweek magazine over an article which suggested gay actors cannot play straight roles.
Murphy called the column, by gay writer Ramin Setoodeh, "needlessly cruel and mind-blowingly bigoted".
The writer said that Will and Grace star Sean Hayes' Broadway performance as a heterosexual lead was "insincere" and "unintentionally camp".
Mr Setoodeh said his article was intended to start a debate.
"The point of my essay was not to disparage my own community, but to examine an issue that is being swept under the rug."
He added that his piece had become "a straw man for homophobia and hurt in the world," and claimed his words had been "twisted".
Newsweek called the article "a thoughtful, honest essay on a controversial topic" and said it was "unfortunate his argument has been misunderstood".
Kristin Chenoweth, Hayes' co-star in the New York stage production of Promises, Promises, also condemned Mr Setoodeh's views, calling them "horrendously homophobic".
Gay actor Jonathan Groff was also criticised for playing Rachel's heterosexual love interest in Glee.
Mr Setoodeh said that his performance in the hit TV show "feels off", adding: "He scowls - is that a substitute for being straight?"
Murphy has called for the writer to join him on the set of Glee and has asked Newsweek to apologise to the actors who were cited by the author.
His open letter also expressed his "shock" at the article because Mr Setoodeh is gay.
Related Internet Links
The BBC is not responsible for the content of external sites.