NBA team sale to Russian tycoon Prokhorov approved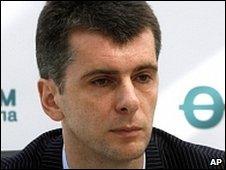 The US National Basketball Association (NBA) has approved the sale of the New Jersey Nets franchise to Russian billionaire Mikhail Prokhorov.
Mr Prokhorov, whose fortune, according to Forbes magazine, stands at $13.4bn (£8.9bn), becomes the first non-North American owner in the league.
The Nets lost 70 out of 82 games last season, including a record 18-game losing streak.
Mr Prokhorov told fans that he intended to give them "plenty to cheer about".
Under the deal agreed last September, Mr Prokhorov would acquire 80% of the basketball club and 45% of the Nets' arena project in Brooklyn.
The deal is thought to be worth more than $200m.
The 45-year-old Russian tycoon, who made his fortune in the metal business, also owns a stake in Russian basketball club CSKA.
"We anticipate that his passion for the game and business acumen will be of considerable value not only to the Nets franchise but to the entire NBA," said NBA commissioner David Stern.
The best basketball players from around the world play in NBA.
The Nets' 12-70 season result was the worst in the NBA league last season.
Related Internet Links
The BBC is not responsible for the content of external sites.