UK unemployment increases to 2.51 million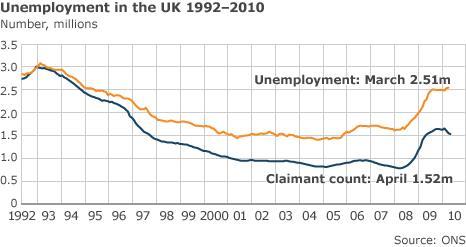 The number of people unemployed in the UK rose by 53,000 to 2.51 million during the three months to March, official figures have shown.
The unemployment total is now at its highest level since December 1994.
However, the total number of people claiming unemployment benefit fell in April by 27,100 to 1.52 million - a sharper fall than expected.
The rate of unemployment remained at 8%, the Office for National Statistics said.
There was also a rise in the number of people classed as economically inactive - those out of work and not seeking work. They rose by almost 100,000 to a record total of just under 8.2 million.
The ONS figures showed youth unemployment rising, with 941,000 16 to 24-year-olds out of work in the January to March period - a rise of 18,000 on the previous three months. The number of over-50s out of work for more than a year climbed 12,000 on the quarter to 146,000.
And 1,066,000 people said they were working part-time because they could not find a full-time job - up by 25,000.
John Philpott of the Chartered Institute of Personnel and Development said the latest data underlined how tough a challenge the new coalition government faced.
"The big task for the government is trying to stimulate growth while also cutting the deficit," he told the BBC.
"There's nothing to suggest we're going to get a return to anything approaching full employment anytime soon."
And Brian Johnson, an insolvency practitioner at HW Fisher chartered accountants, said that those who had predicted that the worst of unemployment was over were wrong.
"If it were not bad enough already, we can expect significant public sector job losses, as the new government sets about cutting spending immediately in order to reduce the deficit.
"With private sector collapses and public sector cuts, we expect unemployment to continue to rise during the remainder of 2010 and on into 2011."
Related Internet Links
The BBC is not responsible for the content of external sites.