Fans want Betty White to present Oscars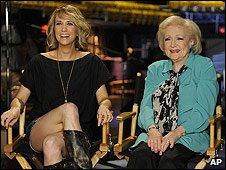 Fans are calling for Golden Girls star Betty White to host the Oscars after she presented Saturday Night Live.
A Facebook group - which lobbied for the 88-year-old to appear on the show - now has more than 9,000 people urging her to front the Academy Awards.
The veteran actress reportedly secured the US comedy show its biggest audience since November 2008 and was warmly praised for her performance.
White won an Emmy award in 1986 for playing Rose in The Golden Girls.
The star has not yet indicated whether she would like to host the Oscars, but made a joke reference to it in her Saturday Night Live appearance.
White used her opening monologue to thank fans for helping to boost her career with their online campaigns.
She took part in a number of comic skits on the show, while musical guest Jay-Z dedicated his second song, Forever Young, to the actress.
White joked: "I can brag to all my friends who think I'm over the hill. 'Well, I did a sketch with Jay-Z!'"
The programme gained its best audiences in recent years when comedian Tina Fey impersonated Republican vice-presidential candidate Sarah Palin during the US election campaign.
Next year's Academy Awards ceremony is due to take place on 27 February, one week earlier than this year's event, which was co-hosted by comic Steve Martin and actor Alec Baldwin.
Related Internet Links
The BBC is not responsible for the content of external sites.