Eurozone economies post weak growth for start of 2010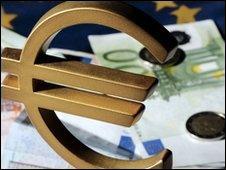 The eurozone economies made a weak start to 2010, posting only modest growth that was lifted by better figures from Italy.
Growth to between January and March was 0.2%, after being flat in the previous three months.
Compared with the same quarter in 2009, the combined economies of the 16 countries that use the euro grew 0.5%.
Throughout the 27-nation EU as a whole, which includes the UK, the first quarter also showed 0.2% growth.
The figures, from the European Union's statistics office, Eurostat, showed that Greece's economy shrank by 0.8% in first quarter of 2010.
Italy reported the fastest growth, of 0.5%, making up for a 0.1% drop over the previous quarter.
Germany was in line with the average, with 0.2% growth, although this was higher than some analysts forecast.
Spain crawled out of recession with 0.1% growth. France also grew by 0.1%, slowing from 0.5% growth in the previous three months.
The figures for the eurozone and whole EU compared unfavourably to first quarter growth of 0.8% for the US.
Japan has yet to release its data, but it had already recorded growth of 0.9% in the last three months of 2009.
However, analyst Howard Archer, of IHS Global Insight, expects the eurozone's improvement to gain momentum.
He said: "The eurozone's upturn is expected to gradually become more firmly established in 2011, when GDP growth is forecast at 1.5%, helped by a stabilisation and then gradual improvement in labour markets as well as by stronger global growth."
But governments' measures to reduce their budget deficits will cast a cloud over Europe, said Carsten Brzeski, economist at ING.
"Austerity programmes in several eurozone countries will weigh on growth in the coming years," he said.
Related Internet Links
The BBC is not responsible for the content of external sites.