Simon Cowell replacement 'not imminent' on US Idol show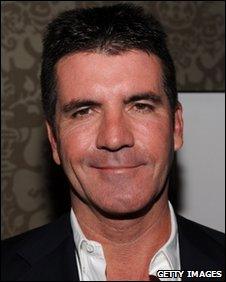 A replacement for Simon Cowell on the American Idol judging panel will not be announced until after the 26 May season finale, according to reports.
Entertainment Weekly said there would be no announcement at a 17 May autumn schedule presentation given by the show's makers Fox to advertisers.
Sir Elton John is among stars rumoured to be in the frame to replace Cowell, who will work on the American X Factor.
Meanwhile, the American Idol website is asking fans their views on the show.
Entertainment Weekly said the timings of an announcement had been confirmed by "a show source".
It said an earlier announcement would have taken the spotlight away from both the contestants and Cowell's role in the season finale.
The uncertainty would "score plenty of free publicity as debate over Cowell 2.0 turns into a popular summer sport", it added.
On Tuesday, Thomas Benson, the chief financial officer of CKX Inc - which owns production company 19 Entertainment - told The Hollywood Reporter that work continued "on a replacement strategy for Simon Cowell".
In the website survey, Fox asks fans their opinions on the judging skills of individual members of the panel including chat show host Ellen Degeneres, who joined the show this season.
It also asks viewers if they miss former judge Paula Abdul, if they watched the show more or less than they used to and what they thought of guest judges from the current season, which included Victoria Beckham.
Chris Glover, writing on a blog on the Seattle Times website, asks if the show is "headed for oblivion".
"The ratings are down, that weird celebrity dancing program is doing better, and the face of the show, Simon Cowell, is about to leave for good," he writes.
"Only the truly desperate ask the public for help in deciding how the show will work."
Jere Hester, writing on the NBC website, said the survey was a "smart move" and that producers were trying "to figure out what's gone wrong this season, perhaps the weakest yet".
"Though the show remains TV's number one programme, the ratings are down, making the judges' panel a natural target," he said.
But the season had mainly been hampered by "a mediocre contestant line-up", he added.
Related Internet Links
The BBC is not responsible for the content of external sites.