Jarvis Cocker creates National Trust countryside album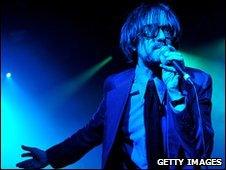 Former Pulp singer Jarvis Cocker has teamed up with The National Trust to release an album of birdsong, trickling water and creaking stairs.
The rock singer swapped guitars for country gardens to create the 13 tracks of sounds from the Trust's properties.
Cocker said the album, a free download, would provide a "holiday for the ears".
He said: "It's not really meant to be listened to intently, like a piece of music, but more as something to have on in the background to aid relaxation."
Sound engineers spent three months recording background sounds at historic houses and peaceful parks across the UK, and Cocker then mixed and produced the final album.
The 33-minute recording includes the sound of a game of billiards at Upton House, Warwickshire, a music box playing in the nursery at Lanhydrock, Cornwall, birdsong at Belton House, Lincolnshire, and lapping waves on Brownsea Island, Dorset.
The National Trust said it was releasing the album in response to research that showed 83% of people claimed constant audio interruptions made them distracted and unable to concentrate every day.
The Trust's visitor experience director Tony Berry said: "If rock 'n' roll is the sound of the city, this is the sound of the country - it's the ultimate chill-out album.
"Millions of people come to our places for physical and mental refreshment, and these sounds are an important part of that."
The news comes after Cocker won the rising star award at the prestigious Sony Radio Academy Awards for his show on BBC 6 Music.
Related Internet Links
The BBC is not responsible for the content of external sites.