Overdraft rates 'at 10-year high'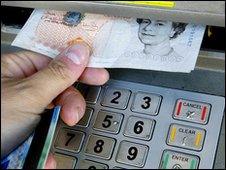 Authorised overdraft rates have reached their highest level for a decade, according to financial information service Moneyfacts.
The average interest rate on agreed overdrafts has reached 14.22%, the highest since May 2000.
The high comes despite the Bank rate remaining at a record low of 0.5%, although some banks have changed overdraft pricing policy.
The Bank rate stood at 6% when overdraft costs were last above 14%.
Over the last 10 years, authorised overdraft rates dropped to 11.81% at their lowest point in May 2004, the Moneyfacts research shows.
However, during debate and court cases regarding unauthorised overdraft fees, some banks changed the structure of the way they charge people who go overdrawn.
This has reduced the income some receive from people who go into the red without permission.
"Changes made to reduced unauthorised borrowing charges meant banks lost a significant revenue stream, something they can ill afford in the current climate," said Michelle Slade of Moneyfacts.
"As one revenue stream closed, inevitably they have moved to find another.
"The loss of income gained from a minority of customers is now being recouped from all customers who use an agreed overdraft.
"Banks are likely to be making more now from these increases than they ever were from penalty charges."
However, the British Bankers' Association (BBA), which represents the banks, has branded the theory as too simplistic.
"[Moneyfacts] are comparing interest rates today with interest rates during the easy credit era," a BBA spokesman said.
"The interest rate offered during that period and cost of banking was unsustainable. The economics of the industry has changed.
"To point out one factor as the main influence on pricing makes no sense."
Andrew Hagger, of financial website Moneynet.co.uk, argued that charges levied when people go overdrawn without permission were still a bigger issue for consumers.
If someone with an agreed overdraft was charged at a market average of 14% and they were £500 overdrawn for 15 days each month, they would pay interest charges of £2.87 per month, he said.
If their interest rate was increased by 2%, it would mean having to pay an extra 41p every month.
"These charges pale into insignificance when compared to the unauthorised charging structures currently employed by some of the banks," he said.
"The area that really needs more focus is unauthorised charging, where a £50 unauthorised overdraft for just three days can cost a customer up to £60 for what is a short-term and fairly minor financial indiscretion."
Related Internet Links
The BBC is not responsible for the content of external sites.