Tim Burton "sensitive" about Cannes judge role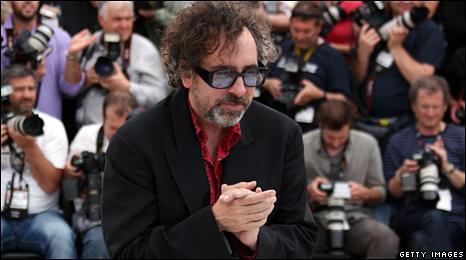 With his trademark dark glasses and scruffy hairstyle Tim Burton enters a room of journalists to a round of applause.
The 51-year-old director, who is best known for making big budget fantasy films such as Charlie and the Chocolate Factory and more recently Alice In Wonderland, is the man hand-picked to head up this year's Palme d'Or jury.
There are 19 movies to be judged this year and Burton, along with eight other judges including actors Kate Beckinsale and Benicio Del Toro, must sit through all of them - at least once - before announcing the winner.
But for Burton, who knows what it feels like to be judged in the competition after his 1994 movie Ed Wood was nominated, says he is not comfortable with the title of his current role.
"I think we're all very sensitive to being called judges," he says.
"I think that's what the great thing about this group is, we want to view every film with a generosity. Also because we're judges, we'll be judged as judges."
On Tuesday night, the panel of nine met over dinner to become acquainted and to set out their schedule for the next 11 days.
"The goal is to not have any preconceptions, I think we've all been judged, so I think we're coming into this with a certain spirit and openness and hopefully compassion for any filmmaker," Burton says.
"We've all been involved in it [film-making] and we all know what that's all about. We all like to be surprised, so there are no preconceptions; we don't want to have a 'certain kind of thing' that we're looking for."
The star, who insists he will not make any of his fellow judges get up early to view films during their stay, adds: "The point is to feel the films and discuss how they touch us both intellectually and emotionally."
There is a wide variety of films in competition this year from all over the world including Thai film Lung Boonmee Raluek Chat, French movie Tournee about a group of Burlesque dancers travelling around France and Utomlyonnye Solntsem 2 by Russian director Nikita Mikhalkov.
Britain's offering Another Year by Mike Leigh, which stars Oscar-winning actor Jim Broadbent and explores various different themes, including joy, sadness, hope and despair.
There are also films from south Korea, Spain, Italy, US, Algeria and China.
"This is what this film festival is all about, people from different countries and different walks of life - that's the exciting part about it," Burton says.
"Hopefully we'll be enjoying the films and enjoying the discussions we have. I think we're all in the spirit of letting the films affect us.
Burton, who is known for his visually arresting and off-kilter film style, says he is revelling in the fact that none of the films in competition are anything like the movies he makes.
"What I'm excited about is seeing a type of a film that I wouldn't ordinarily make or be involved with, but again, that's the beauty of cinema - to see things that are not in your sphere."
When asked how he felt about the lack of Hollywood films in the selection, he says: "I'm happy about that".
"This is an opportunity for me to see what's going on in cinema and that's what has excited each and every one of us. The element of surprise is something you're always looking for.
"From the beginning of cinema it's always been about what's touched people. Whether it's a big effects movie or a small intimate movie - it's what affects people. I hope and believe that will always be the case.
"This process that we go through is a journey and there are certain things that we have to do. It's very organic in the sense that you see things, you discuss it and it's great if you can try to come up with a consensus.
"At the same time, I think that's the fun and interesting part of this process is to make it like a journey - you know where you have to get to, but you're not quite sure how to get there.