VAT 'will rise' under coalition government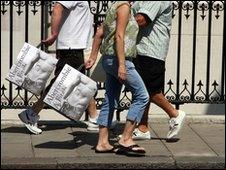 VAT is set to rise under the new coalition government, according to a BBC survey of influential economists.
Of 28 independent economists currently used by the Treasury to assist its forecasts, 24 said they expected the rate to rise in the coming parliament.
The majority predicted a rise from the current 17.5% to 20% before the end of 2011. Analysts say a 20% rate would raise an estimated £11.5bn a year.
VAT was temporarily cut last year to 15% to aid the economic recovery.
But the tax on consumer goods is seen as an attractive way to boost the government's tax income, with cutting the country's budget deficit a priority for the new Conservative-Liberal Democrat coalition.
On Wednesday the coalition said it wanted to see "a significantly accelerated reduction" in the country's borrowing, with £6bn of cuts planned in the first year.
Any changes to VAT and other taxes are likely to be unveiled in an emergency Budget to be announced within 50 days.
Economist Azad Zangana, from Schroders, who is predicting a rise in VAT to 19%, said that the UK economy is probably strong enough to withstand the expected cuts and tax rises.
"While earlier cuts in public spending are inevitably going to dampen economic growth, the UK recovery appears to be gathering pace," he said.
He added, however, that £6bn in public spending cuts were only "a drop in the ocean" compared to what would be required to tackle the current £166bn deficit.
Speaking to the BBC the chief executive of Sainsbury's, Justin King, admitted that a rise in VAT looked "more likely than not".
But he said any rise had to be well-timed by the government, in order to minimise the impact on retailers.
"If it is to go up from the 17.5% rate, let's get good advance notice of that and then have stability for the longer term," he said.
"It's a very complex and costly thing to do for retailers to change the rate of VAT."
Related Internet Links
The BBC is not responsible for the content of external sites.