Stock markets climb on European deficit plans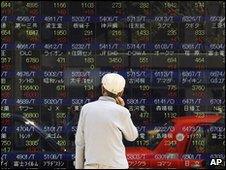 European stocks have risen following Spanish and Portuguese plans to cut their budget deficits, easing worries that Europe's debt crisis could spread.
The UK's main FTSE index closed up 0.9% on Thursday, while Germany's Dax added 1.1%. France's Cac finished flat.
Asian shares had earlier posted rises, with Japan's Nikkei 225 adding 2.2%.
US shares were however lower in morning trading following weak American job creation figures.
Wall Street's main Dow Jones index was down 0.2%.
On Wednesday, Spain revealed measures to save billions of euros.
Prime Minister Jose Luis Rodriguez Zapatero said they would save the country 15bn euros ($19bn; £12.5bn) over two years.
Spain's budget deficit currently stands at 11% of GDP, and the austerity measures are designed to reduce this to 6% by 2011.
"The eurozone problems had really weighed on the market, and reassurance after the Spanish announcement has allowed investors to turn their eyes to things like earnings and economic indicators for the first time in days," said Toshiyuki Kanayama at Monex.
In an attempt to further appease the markets, Portugal has announced its own new austerity measures, pledging to raise income tax by between 1% and 1.5%.
A tax on goods sold, meanwhile, will rise to 21% in an effort to raise government income and reduce Portugal's dependence on borrowing.
Salaries of politicians and public sector chiefs are to be cut by 5%.
The Spanish and Portuguese measures have given some indication that countries with high deficits are prepared to tackle the root of Europe's debt problems - over-spending.
This is what investors want to see, analysts say, rather than countries simply relying on loan-guarantees from the European Union (EU) and the International Monetary Fund (IMF).
Last weekend, the EU and IMF agreed a 750bn-euro rescue package to prop up European economies struggling with large debts.
This was designed to allay concerns that Greece's debt crisis might spread to other countries with high budget deficits, particularly Spain and Portugal.
In a television interview, one senior European banker expressed doubts over Greece's ability to push through austerity measures and repay its debts.
Josef Ackermann, chief executive of Deutsche Bank, told German television that the success of the Greek austerity measures required "unbelievable efforts" from the Greek people.
He was more upbeat about Italy and Spain, saying they were "strong enough to service their debt", but said the situation in Portugal was "more difficult".