BA outlines Heathrow strike plan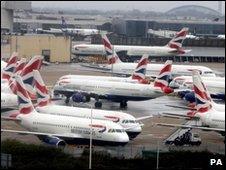 British Airways plans to run at least half its flights from Heathrow Airport during next week's cabin crew strike.
The airline said it intends to operate at least 60% of long-haul services and 50% of short-haul flights.
The first of the Unite union's four five-day strikes is due to begin on Tuesday, as part of the dispute over jobs, pay and working conditions.
The new Transport Secretary, Philip Hammond, condemned the strikes, calling them "self-defeating".
Mr Hammond said strike action was not the best way to resolve the dispute and called for both the airline and the union to "get around the table as soon as possible".
Both BA and Unite have called for fresh talks, but as yet none have been arranged.
If the planned industrial action goes ahead, it will disrupt BA's services from Heathrow for at least 20 days.
The airline says its flights from Gatwick and London City airports will be unaffected by the industrial action.
In total, it hopes to fly more than 70% of passengers during the strikes.
BA said that while most of its revised short-haul flights from Heathrow next week will be operated by its own aircraft and crews, it was leasing up to eight aircraft and pilots and cabin crew from five different airlines from the UK and mainland Europe.
It has further made arrangements with more than 50 other carriers so that it can re-book customers onto their flights if need be.
BA has urged customers due to fly to or from Heathrow next week to check their bookings on its website to see if their flight will still be operating.
Renewing his call for negotiations, BA's chief executive Willie Walsh said the airline's "door remains open to Unite, day or night".
He added: "It is not too late for Unite to call off this action and protect its members' job security."
Unite joint general secretary Tony Woodley reiterated that BA needs to talk to the union to settle the dispute.
"The question BA's board should be asking themselves is not how many planes will operate, but what is the cost of this strike to the company?" he added.
The three other five-day strikes are due to start on 24 May, 30 May and 5 June, hitting the spring bank holiday weekend and school half-term holidays.
Football fans planning to fly out to the World Cup in South Africa could also be affected, with the last of the planned five-day stoppages due to begin shortly before the start of the tournament.
Unite members rejected a fresh deal for cabin crew earlier this month, and the union has accused BA's management of victimising trade unionists and using disciplinary procedures as a "witch-hunt".
The previous strikes in March grounded hundreds of BA fights and cost the company an estimated £45m.
The new transport secretary said he feared the latest strikes would be "extremely bad news for the UK economy and potentially for the airline as well".
But Mr Hammond's comments came as BA joined other airlines in condemning the new government's planned changes to airline taxation.
The Conservative-Liberal Democrat coalition plans to scrap Air Passenger Duty and replace it with a per-plane tax.
A BA spokesman called the plans "unworkable" and warned that increased taxation on UK airlines would encourage passengers to choose rival European airlines instead.
Related Internet Links
The BBC is not responsible for the content of external sites.