Demands of after-school life 'affect family time'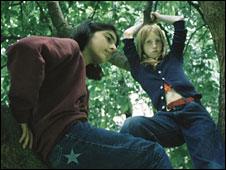 Middle-class parents feel pressured into offering their children "every conceivable" extra-curricular activity, a leading head teacher says.
The chairman of the Independent Schools Association, Graham Gorton, says this can affect family time.
He also bemoans a "must-have" culture that makes parents feel failures if they cannot buy their children the latest gadgets.
And he warns against rules that stop children climbing trees.
Mr Gorton is expected to tell Thursday's ISA conference in Bournemouth: "Over recent decades we seem to have created a 'must-have' culture amongst our young people.
"Many see that they may be perceived to be failing as parents if they do not ensure that their children have the latest gadgets and electronic devices along with their peers.
"Many parents also, I suspect, feel pressured to enrol their offspring into every conceivable club or after-school activity that is available, including through the weekends.
"This must have an impact on the very precious family time that exists.
"Long gone, it seems, are those times when a whole weekend ahead with nothing planned was seen as a luxury and a perfect opportunity to spend time together and share those valuable and irreplaceable moments of childhood."
Many parents sign their children up for extra classes in the hope that they will not only get extra skills but boost their academic achievements.
And research suggests that exam results are improved by wider experience of extra-curricular activities such as music and sports.
Mr Gorton also calls for a common-sense approach to education and the bringing-up of children.
"At my last school the pupils were allowed, and even actively encouraged, to climb trees within the grounds of the school.
"They were told which ones were best to climb and how to climb safely, but were then 'left to explore' with adults close at hand but not prohibiting them from discovering their own limits and extending their climbing activities."
He says in the eight years that he was at a previous school there was one sprained ankle from a pupil who went a little too high up a tree.
Children learn best by experience and by taking measured risks, he claims.
But he suggests this is being jeopardised by health and safety legislation.
Related Internet Links
The BBC is not responsible for the content of external sites.