Gove spells out education priorities for 'a new era'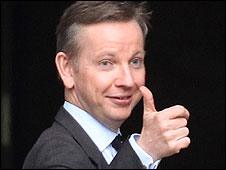 Michael Gove has set out his priorities for education, saying they will mark a new era.
The new Education Secretary confirmed that Conservative plans for "free" schools and more academies would be the focus for change.
He said nothing was more important to the fairness of society and the country's future prosperity than getting education right.
Lib Dem Sarah Teather and Tory Nick Gibb were named education ministers.
The department has been renamed the Department for Education and Mr Gove has written to its civil servants setting out his priorities.
He said it would be re-focused on "supporting teaching and learning".
There will be no change to the areas which are covered by the department however and it will still include children's services.
Previously, it was called the "Department for Children, Schools and Families".
Mr Gove set out the priorities, saying: "I believe, nothing is more important to the fairness of our society and the future prosperity of our country than getting education right.
"Too many children still leave primary school every year without meeting basic standards in English or maths and too few 16-year-olds get five decent GCSEs.
"So improving literacy, raising pupil attainment, extending parental choice, freeing teachers from bureaucracy, improving discipline and closing the widening gap between the richest and the poorest should be our shared goal."
Mr Gove confirmed he intended to move quickly on plans for all schools to be given the freedom to become academies - schools which are funded by the state but are largely independent.
"In the weeks ahead, I want us to offer all schools the chance to enjoy academy-style freedoms so that heads and teachers across the country can be liberated," he wrote.
"This will be the focus of the legislation we hope to bring forward later this month."
The Conservatives had pledged to have legislation in place so that schools could become academies by this September.
The Liberal Democrats are also in favour of schools having more freedom, but there was a difference between the two parties in terms of how free such schools should be.
The Liberal Democrats had previously said they wanted academies to come under local authorities while the Conservatives said they should be independent.
The new government also wants to make it easier for groups of parents, charities and teachers to start schools.
Mr Gove's letter confirmed those plans and said that this new generation of schools could have smaller class sizes - a key priority for the Lib Dems.
"We will also work to allow charities, parents and teachers' groups to open a new generation of small schools with smaller class sizes," his letter said.
Another key priority confirmed is that of the "pupil premium" - where funding is targeted to the most deprived pupils.
This is something both the Conservatives and the Lib Dems had campaigned on in the run up to the general election - but had disagreed bitterly in terms of how it should be funded.
The Liberal Democrats had promised £2.5 billion to pay for it.
Other key priorities confirmed by Mr Gove were to:
give schools greater freedom over the curriculum
"radically reform exam system" so that all schools can offer a wider range of qualifications
support teachers by giving them more powers "to ensure higher standards of discipline"
Related Internet Links
The BBC is not responsible for the content of external sites.