Junior Apprentice wins 4m viewers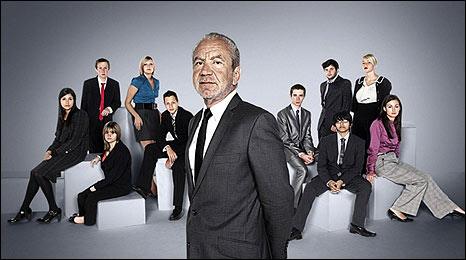 The first edition of Junior Apprentice attracted an audience of 4.1m, less than half the main show's debut of 8.3m viewers last year.
The BBC One programme was preceded by Holby City with 4.3m viewers, while the News at Ten pulled in 4.5m people.
Jordan De Courcy, 16, became the first candidate to be fired by Lord Sugar.
The main series of The Apprentice was rescheduled until the summer to avoid a clash with coverage of the general election campaign.
The BBC Trust ruled there could be a risk to impartiality due to Lord Sugar's role as enterprise tsar with the Labour government.
Coverage of the resignation of Gordon Brown and David Cameron entering Downing Street caused EastEnders and Holby City to be rescheduled to Wednesday evening, prior to Junior Apprentice.
The show was up against Midsomer Murders on ITV1, which gained an average audience of five million.
Five's screening of Fulham's Europa League final clash, meanwhile, attracted 3.6 million viewers.
After he had been given the boot by Lord Sugar, De Courcy said: "I think give it five years and I can be just as successful if not more successful than Lord Sugar."
The programme saw the debut of football executive Karren Brady on the panel alongside Lord Sugar.
She replaces Margaret Mountford, who left the series to resume her studies.