UK house prices rose in March, says government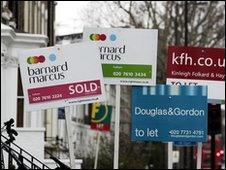 The annual rate of house price increases reached its highest level since November 2007, the government's own data shows.
Property prices rose by 9.7% year-on-year in March - the 12th consecutive month of annual price rises, the Department for Communities said.
The average value of a UK home rose by 0.7% compared with February.
London saw the biggest rise in prices over the year, but prices fell in Northern Ireland.
The cost of the average home reached £205,598 in March, although the typical sale price for those getting on to the property ladder was lower.
The average house price paid by first time buyers was £151,749, 12.6% higher than a year ago, and the average price paid by former owner occupiers was £238,794, some 8.6% up on 12 months earlier.
Annual house price growth was 10.1% in England, 7.2% in Scotland and 8.1% in Wales. In Northern Ireland, prices fell by 6.9% on average in the year to March.
This put the cost of the typical home at £212,266 in England, £165,106 in Scotland, £150,648 in Wales and £174,172 in Northern Ireland.
In the regions of England, annual house price inflation rose in every area. The largest was in London (15.6%) and the smallest in the North West (5.1%).
Annual price growth was 11.3% in the South East of England, 9.7% in the South West, 9% in the West Midlands, 8.4% in the East, 8.3% in Yorkshire and the Humber, 5.7% in the North East and 5.2% in the East Midlands.
Despite these rises, many analysts are expecting a rocky year for the property market.
"The data does not fundamentally change our view that house prices will struggle to make significant gains over the coming months," said Howard Archer, chief UK and European economist at IHS Global Insight.
"Housing market activity has been markedly softer overall so far in 2010 compared to the latter months of 2009, [and] the economic fundamentals are still far from robust for the housing market."
Related Internet Links
The BBC is not responsible for the content of external sites.