Four museums up for £100,000 Art Fund prize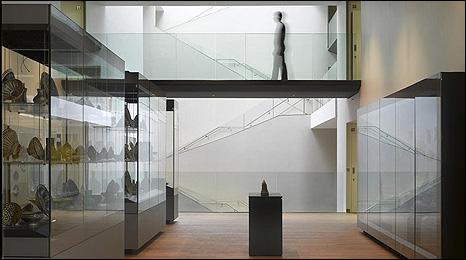 The UK's oldest public museum, which reopened last year after a £61m redevelopment, has been shortlisted for the £100,000 Art Fund Prize.
Oxford's Ashmolean Museum is one of four museums competing for the prize.
The others are Blists Hill Victorian Town, in Shropshire; the Herbert Art Gallery and Museum, in Coventry; and the Ulster Museum, in Belfast.
The winner will be announced on 30 June at the Royal Institute of British Architects in London.
Stephen Deuchar, director of the Art Fund, said this year's shortlist was "exceptionally strong".
"It vividly demonstrates the range of ways in which museums are creatively using their collections to engage visitors," he said.
The Ashmolean Museum of Art and Archaeology, which first opened in the 17th Century, reopened in November last year following an extensive renovation.
The work doubled the size of the gallery space, and created 39 new galleries, an education centre, conservation studios and a rooftop restaurant.
Blists Hill Victorian Town, part of the Ironbridge Gorge Museum Trust, presents life in a typical town of the East Shropshire Coalfield around 1900.
The Herbert Art Gallery and Museum relaunched in October 2008 following a £20m redevelopment of the existing building to create an atrium, seven new permanent galleries, a History Centre and other visitor facilities.
The Ulster Museum reopened in October 2009 with a landmark retrospective exhibition by world renowned abstract artist, Sean Scully.
Since its redevelopment, the Ulster Museum has become Northern Ireland's busiest visitor attraction.
The four finalists were whittled down from a longlist of 10, following visits by the judges.
Kirsty Young, chairwoman of the judges, said: "My fellow judges and I have found it a very challenging task to select only four to go forward to the shortlist.
"Our visits have been eye-opening and the exceptional quality of the longlist has meant that we've been spoilt for choice.
"During our deliberations, the judges' passion and enthusiasm for the museums and galleries was more than evident."
Related Internet Links
The BBC is not responsible for the content of external sites.