Rating agencies face new US regulation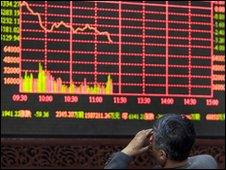 The US senate has voted to tighten up regulation of credit rating agencies as part of measures to prevent another financial crisis.
Under the proposals, US regulators will be in charge of deciding which rating agencies should rate products from different bank.
Currently three rating agencies - Moody's, Standard & Poor's and Fitch - dominate the industry.
They have previously faced strong criticism from senators.
In April a senate committee investigation concluded that the agencies should "share the blame" for the financial crisis and the economic problems that followed.
They argued that the agencies had allowed banks to sell high-risk financial products with low-risk ratings.
Senators are also concerned that the current rules allowing banks to high rating agencies directly make them more likely to produce favourable ratings for their products.
The senate is currently debating new legislation designed to overhaul financial regulation in the US, in order to prevent a repeat of the banking crisis.
The plans for tigher regulation come amid reports that several major Wall Street banks are being investigated by New York's attorney general over whether they misled rating agencies over mortgage-related deals in the run-up to the crisis.
There is also speculation that US prosecutors are also investigating several big-name banks over suggestions they may have misled investors.
Last month, the Securities and Exchange Commission, which regulates US banking, charged Goldman Sachs with civil fraud over the way it marketed its subprime mortgage products prior to the crisis.
The spread of high-risk "toxic" loans through the banking sector - widely rated as safe by the agencies - sparked the credit crunch in the banking sector.
Bank shares on Wall Street fell on Thursday amid the speculation.
Related Internet Links
The BBC is not responsible for the content of external sites.